ZEITGEIST – Leading Interior Design Trends
The ZEITGEIST project has an Asian aesthetic, but each line captures the spirit of the world. The interior and exterior architecture of ZEITGEIST are in complete harmony. Outside, a network of trees surrounds the building, and within, several modern technologies are used. The amount of time spent in interaction with nature has been maximized, and the materials used are environmentally friendly.
Three interior design styles that ZEITGEIST recommends for your family
With interior furniture, the project has 3 main design styles: Scandinavian, Neo-classic and Tropical. This is considered the latest design trend for the most luxurious and modern houses today.
Scandinavian style
Scandinavian style is also known as the typical Nordic interior design style. This design style emphasizes simplicity but still ensures sophistication, exudes elegance, and shows modern aesthetics.
In the ZEITGEIST urban area, one corner of the space is decorated in a Scandinavian style
Since the Nordic region is covered in ice and snow all year, white is the predominant color tone. This is appropriate for homes that need warmth and space. Gray, in addition to white, is sometimes used as the primary color hue.
To avoid backlight, other colors have also been added such as earth color, dark gray, light blue, etc. In general, all the colors in the Nordic style are neutral and pleasant.
Because this style uses natural materials such as wood, leather, and fur, you will find the ZEITGEIST Nha Be Urban Area also shapes the space of the house to be sophisticated but still retains elegance and modernity.
Neoclassical style
Neoclassical style is also known as Neo-classic. Neoclassical is distinctive, luxurious, and sophisticated without being fussy. Many homeowners have recently preferred this style because of the architectural elegance that exists between "modern" and "innovative." The balance between the exterior furniture and the lines on the walls and ceilings is the elegance of this architecture.
Bedrooms of zeit RIVER COUNTY 1 project are decorated in neoclassical style
The focus in neoclassical architecture is often on the walls, which are distinguished by separate spaces. When dividing wall or door panels, experts often use the golden ratio. Even if the owner or visitor has no experience with interior design, they appreciate the elegance of the neoclassical.
Colors in neoclassical style are usually light tones (white, creamy milk, iridescent gold,…). Each architectural line has a harmony between classical and modern. When it comes to materials, neoclassical designs prefer wood, leather, marble,…
The neoclassical style lets each person feel the warmth and harmony of all details without overwhelming them at first glance. The colors and textures are amazingly symmetrical, from the floors (planes) to the curves. These are the elements that contribute to the neoclassical's allure.
Tropical style
Inspired by tropical lands (Hawaii, Bali, Fiji, Caribbean), this stylish design always creates a tranquil and serene atmosphere from a paradise island.
Architectural designers often use many patterns of leaves (coconut trees or palm trees), so green and sea colors are the main tones for this style. Therefore, the room is always filled with endless blue. In addition to blue, some homeowners added many other bright colors such as red, orange, pink, beige (of the sea sand), sunny yellow,…
Homeowners may use silk fabrics for curtains, sofa cushions, pillows, and other items to blend "Italian style" and "tropical style." Wood on the floor or partitions, such as oval, ironwood, and handcrafted materials like wickerwork, bamboo, and rattan, can also be used as furniture in this style.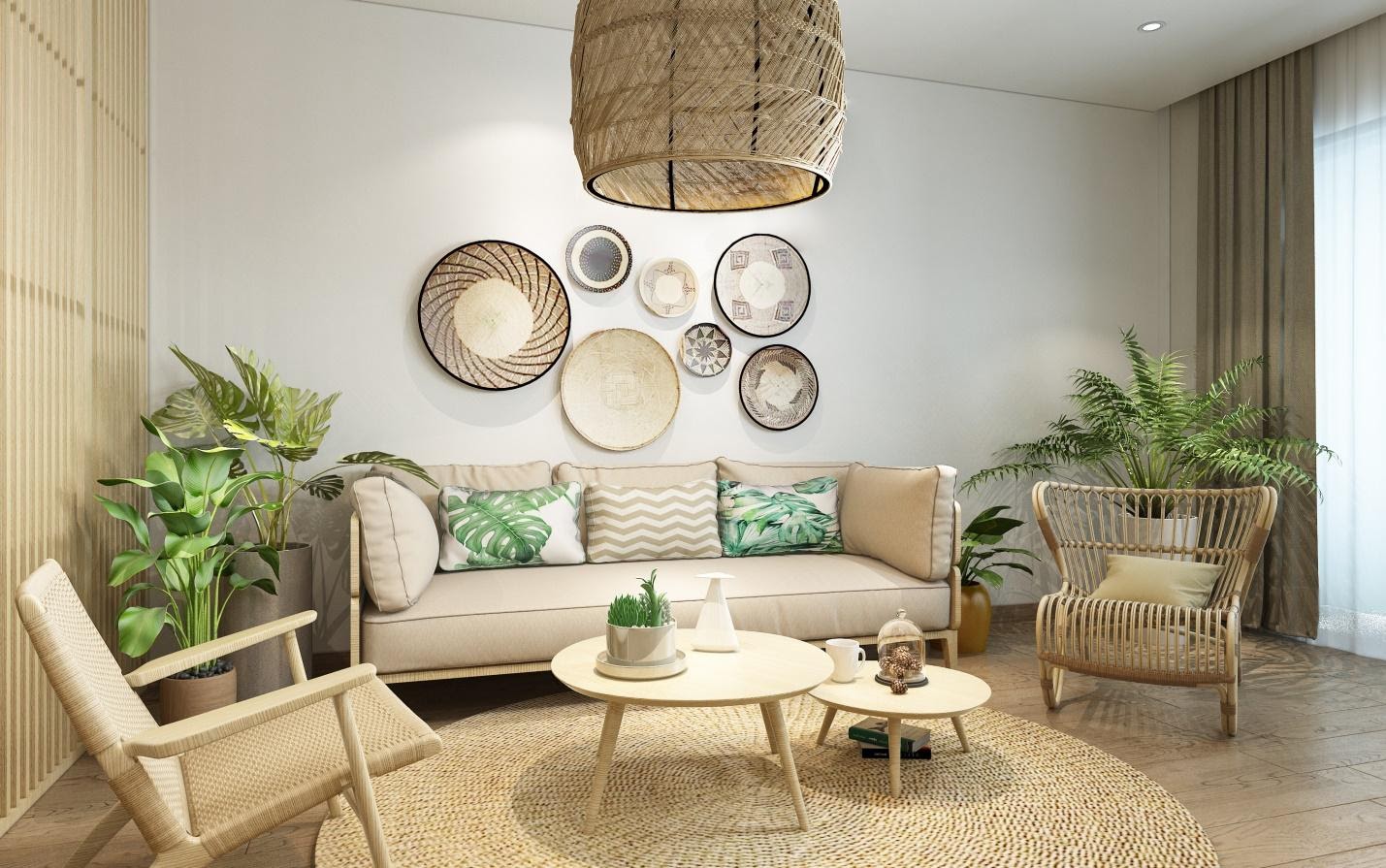 Tropical interior design style in zeit RIVER COUNTY 1 project
The usable area is fully utilized, but the space is still comfortable for the whole family. Green space blends with luxurious interior design to help residents always have a fully happy life.
Thank you for your interest in zeit River County 1!